Stay Ahead of the Curve on Google's Latest Product Announcement
Get Your Free Demo with a Maven Wave Expert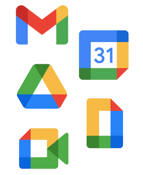 The new reality of work looks completely different for many. With so many organizations now operating in a remote environment, physical interactions are few and far between, face-to-face connections in the workspace have been dismantled and companies are figuring out how to collaborate in new ways.
With the announcement of Google Workspace, Google is evolving to meet the needs that are arising from such rapid digitization.

What is Google Workspace?
Google Workspace thoughtfully brings together messaging, meetings, docs, and tasks—all built with trusted Google security and powered by the cleanest cloud in the industry.
Google helps you get more done at work and at home—with communication and collaboration tools known and loved by billions of users, seamlessly connected together. Google Workspace is a place for shared interests, projects, planning, and group work, with simplicity, ease of use, and helpful features that makes work a little more satisfying. And it's designed from the ground up with industry-leading security and privacy controls built-in -- and powered by the cleanest cloud in the industry.


Our role as a Google Cloud Partner
Across our customer base, 2020 has brought on rapid transitions to a remote-work environment, and we've led the way for Fortune 500 companies to meet these challenges, as well as take advantage of new opportunities that have presented themselves, even during a tumultuous time.
As a Google Cloud Premier Partner, we're here to support your enterprise's digital transformation.
We'll share our unique perspective and expertise on what this Google product announcement means for you.

What New Features Can You Expect to Learn About
New user experience: The Google Workspace thoughtfully brings together core tools for communication and collaboration—like chat, email, voice and video calling, and content management—into a single, unified experience
New brand: In the coming weeks, users will see new four-color icons for Gmail, Drive, Calendar, Meet, and our collaborative content creation tools like Docs, Sheets, Slides.
New ways to get started: To provide more choice and help customers get the most out of Google Workspace, and based on their direct feedback, Google is launching a new set of offerings that better align with how customers purchase its portfolio of products.
Overall, our experts will share how and why Google is uniquely positioned to help, given the position many Fortune 500 companies find themselves in.